Business Innovation Report: Innovation Strategy, Performance and Measurement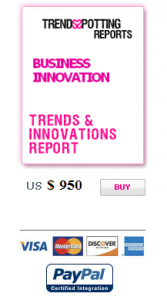 The purpose of this review is to provide a deep understanding of innovation and its business potential.
We will focus on innovation outcomes in terms of performance and present empirical findings linking innovation to business success. We introduce basic definitions of innovation, explore the most common forms of innovation (adding examples and case studies) and discuss disruptive innovation. We identify key innovation strategies developed and tested in academic and business research. We glance into rankings of the most innovative companies to learn on their performance and growth potential. Finally we will study how companies measure innovation and what parameters are critical for them to follow. At the end of the report, we have compiled an insightful "take away" and present extensive case study summarizing key innovation aspects of innovation implementation.
The 140 page PPT report "Business Innovation: Innovation Strategy, Performance and Measurement" is targeted at innovation stakeholders aiming to promote innovation efforts linked to business success & growth.
Keywords: • Product innovation • Process innovation • Marketing innovation • Organizational innovation • Case studies • Innovation Business Models • Innovation Value Chain • Open Innovation • Innovation Performance • Innovation Strategy • Innovator's dilemma • Disruptive innovation • Investment behavior • Innovation intentions • Innovation and R&D • Innovation success • Innovation ranking • Innovation challenges • Innovation metrics
Case studies: Square, Vscan, 3D printing, Nike Flyknit, Immune Therapy, "Dollar Shave Club", Citistats, Apple
View the following sample slide report and contents:
Click to purchase this Business Innovation Report
Tweet This Post
Plurk This Post
Buzz This Post

Delicious
Digg This Post

Ping This Post
Reddit
Stumble This Post