I am aiming to understand us cybers better through the tags we mark as we pass by sites we use. Until intelligent machines, web 3.0 oriented tools, will be sorting our semantic maps, I will try to gather some data with my own introspection tools. I will use the most popular tags as the semantic map for our needs and interests.
Let's begin with the most established bookmark tool for tags gathered by del.icio.us.. del.icio.us cloud tags (see table 1) maps us for having a major interest in technology (flash, java, programming etc.) but also with arts (art, design, music), entertainment (news, games, video, blogs) and hobbies (shopping, travel). Looks like we are all technologists who are trying to have some fun off work.
To get the best perspective for the bloggers world of interests see technorati tags (table 2). Beside "blogging" and "writing", bloggers deal with "life" issues, news and entertainment, hobbies ("music" receives high attention, sports, poetry) and social connections (friends, romance).
By viewing flickr's tags – we receive a more pleasurable happy oriented – perspective of our world.  flicker's tags focus on: beach, birthday, family, friends, party. Popular than all of these is the "wedding" tag! (see table 3).
Using "I wish" site as 43 things we can get a perspective of our future aims and need for change (the "desired self", as we will call it in psychology) 43things popular tags (see table 4) presents a world were people's ideas are around: fun, travel, life, health and music.
While doing our shopping at amazon, it seems that we most value "bards and minstrels" as a theme. At amazon (See table 5) we commonly tag books, DVD, and music as our media. When it comes to style we go with fiction and fantasy, and prefer it all with a historical flair.
Do we separate work from fun?  Is it different clusters of Cybers using these sites or are we having a multiple personality in the web?
You are welcome to see this post in tags, by tagcrowd's exciting cloud tag tool (table 6).
table 1: del.icio.us by tags
table 2: technorai by tags
table 3: flickr by tags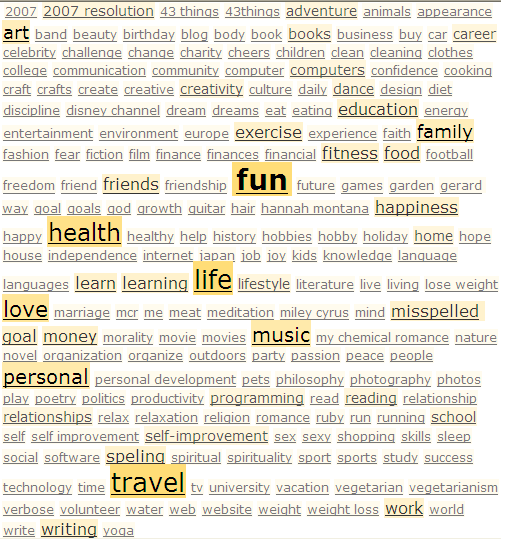 table 4: 43 things by tags
table 5: amazon by tags
table 6: this post by tags
Tweet This Post
Plurk This Post
Buzz This Post

Delicious
Digg This Post

Ping This Post
Reddit
Stumble This Post