One can suggest that we bloggers share a community focus. Others may suggest we are individuals in search of self esteem and social recognition.
On academic studies we do find differences in "social orientations" between cultures and societies (see " social orientation"-article on pdf). I will try to investigate this question using a more simple straight forward test: comparing between the use of the word "I" to the word "we".
Using blogpulse search engine (see graph 1) I found that in blogs "I" is being used three times more than "we" ("I" is found in about 0.45% of all posts, while "we" is being used in 0.16% of all posts).
In order to normalize it and compare it to the English word frequency I used the Brown Corpus Word Frequency. According to their list (edict wordlists), the use of "I" is about twice as much as the word "we" (0.50%, 0.26% respectively, see graph 2).
It turns out that while we blog we use much less "we" than we would normally use (in English language) (0.16% versus 0.26%) and that on blogs we have a much larger difference between the "I" and the "we" (3 times larger in blogs, two times larger in the English language).
I (not "we") can conclude from this investigation that we (and not only "I") blog with a more egocentric motive and from an individualistic perspective. Having this finding in mind we bloggers can be inspired to further shape our community values.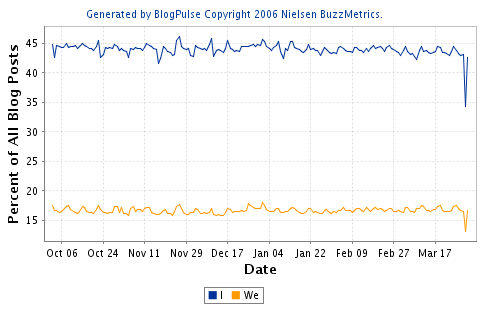 graph 1: use of "I and "we" in blogs
graph 2: use of "I and "we" in the English language
Tweet This Post
Plurk This Post
Buzz This Post

Delicious
Digg This Post

Ping This Post
Reddit
Stumble This Post