During the start of this year some of us predicted that Twitter would challenge Google in real time search and Google would 'pagerank' and 'map' people's influence. Another common prediction was that Google would buy Twitter.
While rumors of a Google acquisition of Twitter were apparently off base, it wouldn't be surprising to see the companies strike up a formal collaboration or partnership. Google founder Larry Page reportedly admitted that Twitter made Google focus on real-time search.
"I have always thought we needed to index the web every second to allow real time search. At first, my team laughed and did not believe me. With Twitter, now they know they have to do it."
However with the real time search hype getting hotter, there are some serious developments so far in mapping the social influence.
Leaked documents from Twitter (with 37 Million Global users) shows that the microblogging site aims at becoming "The Pulse Of The Planet" with 1 Billion users by 2013 & developing its "Tweet rank".
Another player OneRiot has developed a real time ranking algorithm 'Pulse Rank' which takes into account 26 different factors including Freshness (i.e. how recent), Domain Authority (e.g. NYT blog vs some less popular blog on politics), People Authority (i.e. reputation ranking of the sharer) & Acceleration (i.e. how quickly the link is propagating in social stream).
Facebook started to run its own updated search with real time capabilities, while FriendFeed launched its real time search as well.
For other players on real time search, check out VentureBeat's coverage on 11 potential contender. Infact nine of those players were launched in the last four months: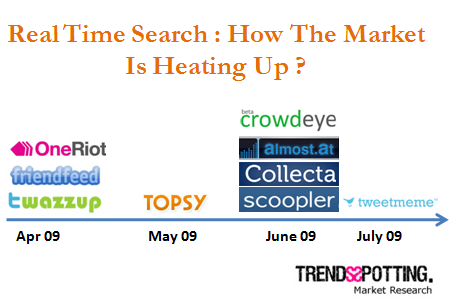 Hype Cycle Of Real Time Search:
For a qualitative visualization of the hype for "real time search", TrendsSpotting used Gartner's hype cycle. We plotted "investment interest" (i.e. VC/self funding , acquisitions) vs proxies for "consumer interest" (i.e. Google search trends for "twitter search") to derive an expectation indicator for the hype.

The green bars plotted against the left hand axis represents 'Investment interest' in million dollars (*).
The red line plotted against the right hand axis is a proxy for consumer interest in real time search or 'Twitter search'.
The light blue line or the 'expectation indicator', plotted against right hand axis, combines the two and provides evidences of the hype fast moving towards 'peak of inflated expectations'.
What can we learn from this ?
TrendsSpotting predictions :
We predict that many new players would enter into this market & further investment interest would continue to rise. As a result the 'expectation indicator' would continue approaching the 'peak of inflated expectations' in the upcoming months.
Currently real time search is ubiquitous to 'twitter search'. However in the upcoming months with consumer interest real time search would emerge as a category on its own.
Twitter has been a darling to the media & journalist fraternity. Many among those are the top bloggers & Twitter influencers. The amplified tendency in breaking news by the media fraternity would continue generating over-enthusiasm & some unrealistic expectations around the real time search.
Bottom line:

The Real Time Search trend will have a noticeable impact by the predicted entrance of big players (as Google) in this direction. Among the frenzy media publicity some of players may develop a successful technology to address the market. However most of the current contenders would fail. That's the time when the Real Time Search trend is would to lose its expectations. That's possibly would be the right time to revisit this trend.
*  In the investments count Twitter's acquisition of Summize (July 08) and Twitter's series C funding (February 09) were included.
Tweet This Post
Plurk This Post
Buzz This Post

Delicious
Digg This Post

Ping This Post
Reddit
Stumble This Post